C_wiz is available in three editions: EVALUATION, EXPRESS and PROFESSIONAL.
To obtain any edition you always start by downloading the EVALUATION edition, which is FREE and can be used for as long as you like (see Download for further information).
See Flavours & costs for further information on editions and the costs of upgrading to the EXPRESS and PROFESSIONAL editions.
---
Note that when you upgrade the edition of C_wiz on one PC the registration key supplied will not upgrade the edition of C_wiz on another PC.
---
To upgrade:
o Step 1 - decide on the type of upgrade required:
o Step 2 - go to the PC that you want to upgrade the EVALUATION edition of C_wiz on - this will normally be a PC on a vessel and quite likely will not have Internet access.
o Step 3 - launch the EVALUATION edition of C_wiz on this PC.
o Step 4 - click [Help] then click [About C_wiz]. The [About C_wiz x.0.0] panel will appear, similar to: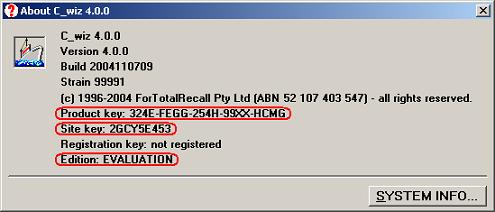 o Step 5 - ensure the current edition is EVALUATION. If the current edition is not EVALUATION then you are either using the wrong upgrade procedure or no upgrade is required.
o Step 6 - note the exact product key and site key.
o Step 7 - go to a PC with Internet access then enter the product and site keys in the correct fields below:
During this payment process you will be asked for an email address which will be used:
o By PayPal - to send you an email receipt.
o By ForTotalRecall - to send you an email containing a registration key that will upgrade your copy of C_wiz and instructions on how to apply it.
Please click here for ForTotalRecall Pty Ltd's privacy policy.